Featured Programs and Schools
Welding Certification Online
Welders can work in a wide variety of industries. A welder will be present anywhere metal needs to be permanently fused together or broken apart. If you are planning on a career as a welder, it is crucial to do some research on the field. Factors that you may want to consider before you decide include the job description, as well as the pay scale for welding occupations.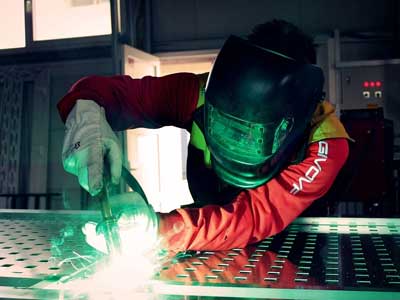 What Does a Welder Do?
A skilled tradesperson, a welder puts different piece of metal together to create something new or repair metal products. The job requires experience and a special skillset because welding involves use of dangerous machinery and equipment. A welder repairs metal parts, makes joints, and fills holes using intense heat and gas. Welders can work in different areas, be it manufacturing, industrial sector, and construction applications, etc.
Select Your State
Alabama
Alaska
Arizona
Arkansas
Colorado
Connecticut
Delaware
District of Columbia
Georgia
Hawaii
Idaho
Iowa
Kansas
Kentucky
Louisiana
Maine
Maryland
Michigan
Minnesota
Mississippi
Missouri
Montana
Nebraska
Nevada
New Hampshire
New Mexico
North Carolina
North Dakota
Oklahoma
Oregon
Rhode Island
South Carolina
South Dakota
Tennessee
Utah
Vermont
Virginia
Washington
West Virginia
Wisconsin
Wyoming
Job Description & Responsibilities of a Welder
The specific duties that a welder performs depend on its skills and the industry he/she works in.
Skilled welders are required to know the advance techniques of welding to join different metal components.
Welders must know how to read blueprints and drawings to work on a new project and determine various dimensions.
Welders are required to use specialized machinery and equipment for industrial welding, as well as maintain and repair all equipment.
Identifying flaws and damage to metal components, assessing welded surfaces and structures for repairs.
Complete know-how of different welding processes and ability to work in confined spaces, challenging weather, and hazardous situations.
Welder Career Requirements
| | |
| --- | --- |
| Training Requirement | Technical school and on-the-job training |
| Work Locations | Construction, Shipbuilding, Industrial Maintenance & Repair, Automobile Industry, Railroad Manufacturing, Electrical Power Sector, Natural Gas Distribution |
| On-the-job Training | Moderate-term |
| Certifications | Obtain Welding Certification from the American Welding Society and the American Society of Mechanical Engineers. |
| Key skills | Mathematical Skills, Attention to Detail, Physical Strength & Endurance, Hand-Eye Coordination, Technical Skills, Tool Handling, Design Skills |
| Annual Mean Salary – 2021 | $ 48,290 per year (Welders, Cutters, Solderers, and Brazers) |
| Job Outlook – 2020-2030 | 8% (Welders, Cutters, Solderers, and Brazers) |
Source: U.S. Bureau of Labor Statistics (2021)
Types of Welders
There are two different types of welders, those who are skilled and those who aren't. Skilled welders are typically given different work than unskilled welders. Most unskilled welders work on assembly lines and perform repetitive tasks. Unskilled welders generally aren't educated about the different properties of metals, and gases and hence aren't qualified for technical welding tasks.
On the other hand, a skilled welder knows about different welding techniques. Through an apprenticeship, or otherwise, skilled welders are generally given more complicated tasks, like constructing skyscrapers and high structures. Depending on the project, welders are expected to use more than 100 welding techniques, including resistance welding and submerged arc welding, etc.
Welder Salaries and Job Growth
According to the U.S Bureau of Labor Statistics, the median wage for welders, cutters, solderers and brazers is $41,380 per year and $19.89 per hour. Typical entry-level education required to become a welder is a high school diploma or equivalent degree, although on the job training is usually required to become a welder. The number of jobs available in the field in 2016 was 404,800 and is expected to increase by 6% between 2016 and 2026, adding a total of 22,500 jobs to the industry.
Steps to Become a Welder
To become a welder, you will have to follow a few steps.
Get a high school diploma
You are required to get a high school diploma or equivalent degree to become a welder. If you know the field you are interested in at this point, it will help you graduate with a strong background in mathematics, chemistry and physics. These subjects will help you read and understand blue prints as well as understand the internal structures of the buildings you weld.
Take vocational school courses
After getting your high school degree, you will have to take courses from an accredited vocational school to learn specific welding techniques. While unskilled welders generally do not need certification, if you plan to work on airplanes, or on oil rigs, you will require certification in certain welding techniques e.g. arc welding.
Gain experience
After you have graduated high school and gotten the licenses you require to learn a welders trade, you can now apply for jobs within the field. Employers are more receptive to workers who have taken courses in blue print reading, mechanical drawing, or metallurgy and sometimes may even pay for their workers training.
Welding Certifications
Welding requires extreme precision and technical skills to be able to work across different industries. Professional welders who want to increase their job prospects and advance to senior positions must earn certifications. The American Welding Society (AWS) provides different certifications after testing applicants in 6G pipe welding, vertical welding positions, flat, overhead, and horizontal welding, gas metal arc welding, gas tungsten arc welding, and shielded metal arc welding. Some of the main welding certifications are:
Certified Welder (CW).
Certified Welding Inspector (CWI) certification.
Certified Welding Educator (CWE) certification.
Certified Resistance Welding Technician (CRWT) certification.
Certified Radiographic Interpreter (CRI) certification.
Certified Welding Supervisor (CWS) certification.
Certified Welding Engineer (CWE).
Educational Requirements for a Welder
To become a welder, typically a high school diploma or GED is the basic requirement. Before starting career as welders, applicants are required to complete internships in the related field to gain some on-the-job experience. Many colleges and universities offer advanced welding degrees that include
Associate Degree in Welding Technology.
Bachelor's Degree in Welding Engineering Technology.
Master of Science in Welding Engineering Technology.
Welder Career Advancement
According to the 2021 U.S. Bureau of Labor Statistics (BLS) figures, the mean annual wage for welders, cutters, solderers, and brazers was $48,290. BLS has projected that the job opportunities for welders are expected to grow by 8% from 2020-2030 at the national level.
Below are the states with the highest employment level for welders, cutters, solderers, and brazers:
| | |
| --- | --- |
| State | Employment |
| Texas | 46,580 |
| California | 30,080 |
| Ohio | 17,710 |
| Pennsylvania | 17,320 |
| Wisconsin | 16,570 |
Source: US Bureau of Labor Statistics (2021)
The top paying states for welders, cutters, solderers, and brazers are:
| | |
| --- | --- |
| State | Annual mean wage |
| District of Columbia | $71,230 |
| Alaska | $70,490 |
| Hawaii | $66,020 |
| Wyoming | $63,280 |
| North Dakota | $57,550 |
Source: US Bureau of Labor Statistics (2021)
Should You Become a Welder?
Anyone interested in a career as a welder must be fully aware of the facts that includes what the job requires, overall growth outlook, salary projection, and the time it takes to become a certified welder.
Job Satisfaction: In terms of satisfaction, welders fall below the average line. Most of it owes to difficult working conditions and physical nature of the job. On the other hand, the welders employment growth is quite strong at 8% over the next ten years.
Average Salary: As per BLS 2021 national estimate report, a welder earns an average $48,290 annual mean wage.
Job Growth: Due to the developing infrastructure in the country, buildings, bridges, and highways, the projected career growth of welders is 8%.
Duration to become a welder: A welding program takes around 6 months to complete. For people looking for more certifications, it can take up to two years.
FAQs
What state has the highest paying welding jobs?
According to the data available on U.S. Bureau of Labor Statistics (BLS), District of Columbia is the highest paying state for welders, with an annual mean wage being $71,230.
What is the Highest Paid Welding Job?
BLS reports Electric Power Generation, Transmission and Distribution industry as the top payer, with the annual mean wage being $92,130.
Is welding a high demand job?
The US Bureau of Labor Statistics projects an 8% growth for welders from 2020-2030. This is mainly due to the development in different sectors like electrical power, natural gas distribution, rig welders, and ship and boat building.
You May Also Like
How to Become a Welder in Florida
Welding Certificate Program
Welder Blog