Featured Programs and Schools

Welders, Cutters, Solderers, and Brazers are responsible for joining or repairing metal parts or products. As part of their job duties, they study blueprints, inspect materials and structures to be welded, and oversee the welding processes.Read this article to find out about their pay, job prospects, and training requirements.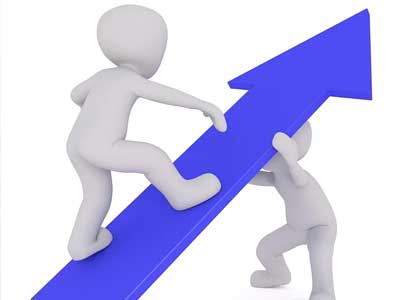 Career Statistics for Welders, Cutters, Solderers, and Brazers
The employment data displayed in the table below is taken from the US Bureau of Labor Statistics.
| 2018 Median Salary | $41,380 per year |
| --- | --- |
| Job Outlook, 2018-28 | 3% |
| Number of Jobs, 2018 | 424,700 |
| Employment Change, 2018-28 | 14,500 |
Source: US Bureau of Labor Statistics
How Employable Are Welders?
The primary responsibility of a welder is to use the right equipment and tools to weld pieces of metal together. A welder should be able to read the blueprints and diagram before cutting any metal plates. There are many community schools and colleges that offer associate's degree programs, along with welding certifications and diplomas to those who are interested in pursuing a career in welding.
According to the U.S. Bureau of Labor Statistics 2021, about 397,600 people are employed as welders, cutters, solderers, and brazers. The national projected growth for the job between 2020-2030 is 8%. Welders are among the most in-demand workers in today's job market, with opportunity to earn high salaries through experience, enhanced skills set, and advanced certifications.
Are Welders in Demand?
Most manufacturing processes rely on welders which makes them in demand. According to the statistics, two out of every three welding jobs are available in various industries of manufacturing, construction, structural and architectural building, mining machinery, and automotive.
What makes welding such a diverse field is that the skills and techniques remain the same, which is why welders can switch industries and move up the career ladder. Welders who have acquired certifications from the American Welding Society (AWS) along with advanced training in welding techniques, equipment, and technologies can enjoy greater job security and higher salaries.
Welder Job Market by State
Below are the states with the highest employment level for welders, cutters, solderers, and brazers:
| | |
| --- | --- |
| State | Employment |
| Texas | 46,580 |
| California | 30,080 |
| Ohio | 17,710 |
| Pennsylvania | 17,320 |
| Wisconsin | 16,570 |
Source: US Bureau of Labor Statistics (2021)
Types of Welding Jobs
People who are considering a career path in the field of welding can learn about the different types of welder jobs, welding job titles, and skills required to succeed in the field. Welding jobs are spread over various industries and professional welders play an important role in manufacturing, construction, ship and boat building, aerospace, oil rigs, and automobiles. Welding is a skill that's developed through a lot of practice which is why there are many certification programs available that prepare future welders for the job. There are many types of welding jobs:
Manufacturing Welders
Sheet Metal Workers
Construction Welders
Pipeline Welders
Structural Steel Welders
Industrial Maintenance Welders
Boilermakers
Rig Welders
Motorsports Welders
Shipyard Welders
Underwater Welders
Military Welders
Fabrication Welders
Welding Inspectors
Top Industries for Welders in United States
There are many industries in the U.S.A that hire skilled welders, offering opportunities to grow in the field. Below are the top paying industries for welders in the U.S.A.
| | | |
| --- | --- | --- |
| Industry | Employment  | Annual Mean Wage  |
| Electric Power Generation, Transmission and Distribution | 1,040 | $ 92,130 |
| Natural Gas Distribution | 720 | $ 88,940 |
| Pipeline Transportation of Crude Oil | 70 | $ 87,900 |
| Pipeline Transportation of Natural Gas | 240 | $ 80,560 |
| Petroleum and Coal Products Manufacturing | 550 | $ 77,130 |
Source: US Bureau of Labor Statistics (2021)
Highest Paying Cities for Welders in United States
The top paying states for welders, cutters, solderers, and brazers are:
| | |
| --- | --- |
| State | Annual Mean Wage  |
| District of Columbia | $ 71,230 |
| Alaska | $ 70,490 |
| Hawaii | $ 66,020 |
| Wyoming | $ 63,280 |
| North Dakota | $ 57,550 |
Source: US Bureau of Labor Statistics (2021)
Steps to Become a Welder in the US
A career in welding offers many opportunities to work in different industries and areas. Welders are needed in all kinds of industries, with job prospects in the construction of bridges, building, ships, aircrafts, spacecraft parts, and refineries. The American Welding Society recognizes more than 80 welding processes that are implemented by sheet-metal welders, ornamental ironworkers, and iron/metal workers.
If you are looking to become a welder in the US, then the first thing is to make sure that the job is right for you. Welding can appeal to anyone who is interested in physical labor that involves working with metal, tools, and machinery. There are certain steps involved in becoming a welder as the job requires working with dangerous equipment and skills that need to be mastered over the time.
Research Different Types of Welding Jobs
Before you decide to take up welding as a profession and plan your education, make sure to learn about the job options available.
It is important to know about the responsibilities specific to a welding position and the type of training it requires.
Keep up with the industry trends and plan your education, certifications, and training accordingly.
Take Welding Courses
Once you have determined your career path, find a college near you that offers the best welding degree program that meets the requirements of the American Welding Society.
Study courses that cover areas like basic engineering system, mathematics, and analytical development.
Obtain Welding Certification
Whether you have covered welding related courses in high school, obtained a welding diploma, or received an associate's or bachelor's degree in welding engineering technology, certification is a must to be able to work professionally.
There are different types of welding certifications offered by the American Welding Society (AWS) that can enhance your skills and resume.
Some of these certifications include, Certified Welder (CW), Certified Welding Inspector (CWI) certification, Certified Welding Educator (CWE) certification, Certified Welding Supervisor (CWS) certification, and Certified Welding Engineer (CWE).
Gaining Work Experience
Considering the nature of the welding job, it's best to start at the ground level, where you can shadow a supervisor and learn through hands-on training.
Learn about the schedule and work practices of a welder, implanting the different techniques you learned during education and certification period.
Once you have gained hands-on experience, you can either work in the same company or apply for a better position in other industries.
Increasing Portfolio with Certifications
As mentioned before, there are many different types of certifications being offered by the American Welding Society (AWS). Enhance your skills and credentials by frequently going for additional certifications.
Qualify for better welding jobs in different industries by proving your abilities.
Showcase your versatility as a welder by obtaining job centric certifications that will convince the employer of welding practices.
While enhancing your skillset as a welder is an ongoing process, it can take anywhere from six months to two years to start working professionally.
Career Outlook and Prospects of Welders, Cutters, Solderers, and Brazers
Forecasts suggest that the employment opportunities for Welders, Cutters, Solderers, and Brazers will increase by 3% from 2018 to 2028.
The nation's aging infrastructure will require the expertise of qualified and competent professionals in this field, who will help rebuild buildings, highways, and bridges. The construction of new power generation facilities may also create more employment opportunities in this field.
It is easier for welders to move between different industries because their skills are transferrable. The basic skills and principles of welding are similar across different industries, For instance, a welding professional who has been laid off in the oil and gas industry may be able to find a job in the manufacturing industry.
The job prospects generally depend upon the welder's skill level. However career prospects are bright for those welders who are willing to relocate and are trained in the latest technologies.
State Data for Welders,Cutters, Solderers, and Brazers
The following bar chart shows the five states with the highest employment figures for Welders, Cutters, Solderers, and Brazers in the US.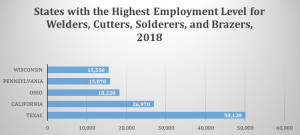 Source: US Bureau of Labor Statistics
The statistics show Texas had the highest number of Welders, Cutters, Solderers, and Brazers working. The 50,120 people employed in Texas in this particular occupation were more than three times higher than the fifth state on the list, Wisconsin that had 15,550 Welders, Cutters, Solderers, and Brazers.
You May Also Like
How to Get into Pipeline Welding
Welding Certificate Program
Steps to Become a Welder
Welder Salary in the US