Featured Programs and Schools
What is a Welding Apprenticeship?
Welding apprenticeship is a specialized program in which an individual works under the guidance of an experienced and professional welder. It is the responsibility of the professional welder to train the apprentice, make sure they follow safety protocols, know how to handle welding tools and equipment, and practice welding techniques.
Most trainers give the apprentice an opportunity work alongside them, handle simple tasks, and work on projects. Most welding apprenticeship programs take around three to four years to complete as the basic requirement is clocking in training hours of approximately 6,000 to 8,000. During welding apprenticeship program, trainers are required to take welding courses, learn different welding skills and techniques, and clear evaluation exams.
Do You Need An Apprenticeship To Be A Welder?
Welders are skilled workers that work on maintenance and construction sites. To become a welder, you are required to follow certain steps, the first of which is getting the right education. All aspiring welders must first get a high school diploma. Ideally, you should have taken high school courses in physics, chemistry, and mathematics.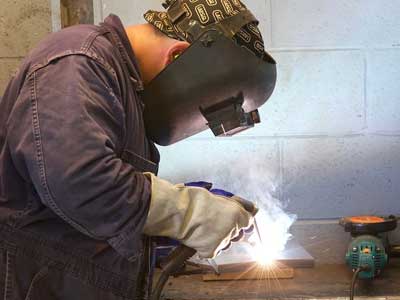 The next step to becoming a welder is getting the appropriate training. This can be done in three ways. You could get a degree in welding, e.g. an associate's or a bachelor's degree. Secondly, you could get a certificate in welding, e.g. in Metal Arc Welding. Alternatively, you could also go for an apprenticeship. An apprenticeship will likely take longer to complete. According to the U.S Bureau of Labor Statistics, it will take 3 to 5 years to complete a welding apprenticeship. An apprenticeship in welding will not just educate you in different welding techniques, but you will also get hands-on training from a skilled welder.
At the beginning of your welding apprenticeship, you may be expected to simply assist the trained workers by carrying tools, supplies and pipes or moving heavy equipment. This is also around the time you will start learning about the safety regulations and standard expectations from welders. Welders are usually working full time and are also expected to work overtime on difficult projects. In addition to this, the working conditions are different from the typical office job and you will often be required to work in cramped spaces and poor weather conditions.
Welder Apprentice Education
Most welding apprenticeship programs operate under the regulations set by the American Welding Society. This means that the employers or trainers know what skills are required by the potential welders to succeed in the field and rise to the top. To become a welding apprentice, the minimum requirement is a high school diploma, followed by acquiring relevant certifications from the American Welding Society (AWS). Welding apprenticeship program is divided into two levels.
1. On-the-Job Training
2. In-School Training
On- the-Job Training: The employer or trainer creates an environment in which the apprentice gets training experience at the place of employment. As per the Apprenticeship Training Standard, skills, competencies are laid down that are essential to the welding industry. Every trainer is required to grade and evaluate the apprentice according to performance. It is important to meet all the training objectives and demonstrate skills that are required by the profession. Besides learning about the basic welding skills, apprentices are also required to inspect work pieces, read blueprints, and maintain welding equipment.
In-School Training: The in-school level of welding apprenticeship program includes Vocational Training Program that offers technical training to apprentices. It comprises of different levels of theoretical study and training. During the training, apprentices are evaluated and graded on their skills and knowledge. They are put through different scenarios that test their learning and to ensure that they have achieved the desired outcome. Apprentices are required to pass all the requirements set by the Welder Curriculum Standard. The program covers everything form basic requirements to welding technicalities that include training in 1G, 2G, 3G and 4G welding. Apprentices are geared to meet the requirements of the professional world by giving them exposure of various welding positions and techniques.
Top Skills for a Welder Apprentice
Welding apprentices have a huge role to play in companies, as they must benefit different projects through their skills and knowledge. There are some skills that are essential for welding apprenticeship.
MIG – Gas Metal Arc Welding
TIG – Gas Tungsten Arc Welding
STICK – Shielded Metal Arc Welding
Flux-Cored – Flux-Cored Arc Welding
Efficient handling of welding tools
Ensuring safety and accuracy to achieve desired results
Ability to read blueprints, welding drawing, and diagrams
Proficient in Computer Numerical Control that includes operating routers and machines
Welder Training Near Me
To find the appropriate welder training centers and vocational schools, a simple internet search should suffice. The American Welding Society website and the U.S Department of Labor's websites may also have options for you to consider.
One way to get apprenticeships is to simply go visit local welders in your area and apply to be their apprentice. While some may not have the time to train a welding trainee, others will be more than willing to have you help around and learn on site. If you manage to get an apprenticeship as a welder, it may be much easier to get jobs in the industry. You will be sufficiently trained in the field after 3 to 5 years of learning from experienced tradesmen.
Welding Apprenticeship Vacancies
The availability of welding apprenticeship opportunities depends on the state you belong to. While some states don't offer welding apprenticeships at all, others do. You may be able to get an apprenticeship if you approach welding companies. Experts may be willing to take you on depending on your credentials and interest in the field. If you are still having difficulty finding an apprenticeship, the U.S Department of Labor's website may update you on welding apprenticeship opportunities available near you. All you need to do is search for welding apprenticeships and links to different companies should pop up, as well as the dates on which the advertisement was posted, etc.
Average Salary for a Welder Apprentice
While the U.S. Bureau of Labor Statistics (BLS) does not have the salary data for welder apprentice, the mean annual wage for welders, cutters, solderers, and brazers according to the 2021 statistics is $48,290. Similarly, the projected growth rate for the profession between 2020 and 2030 is 8%. There is a huge demand for welders in the USA as the construction and manufacturing industries are seeing an upward trend. Some of the top paying industries for welders are:
| | | |
| --- | --- | --- |
| Industry | Employment  | Annual Mean Wage  |
| Electric Power Generation, Transmission and Distribution | 1,040 | $92,130 |
| Natural Gas Distribution | 720 | $88,940 |
| Pipeline Transportation of Crude Oil | 70 | $87,900 |
| Pipeline Transportation of Natural Gas | 240 | $80,560 |
| Petroleum and Coal Products Manufacturing | 550 | $77,130 |
Source: US Bureau of Labor Statistics (2021)
You May Also Like
How Long Does it Take to Become a Welder?
How Much Do Welders Make
How to Become a Coded Welder
10 Reasons Why You Should Become a Welder
5 Best Welding Helmets for Sensitive Eyes