Featured Programs and Schools
Welding Inspector Course Online
The art of welding is crucial in many industries such as automobiles, shipbuilding, construction, etc. In fact, welding has become an integral component of our lives. We use welded stuff almost every day. Our cars, furniture and many other things are made up of welded parts.
This makes the job of a welder inspector a very important one. They have to ensure that the best quality stuff is available to the end consumer. If you are interested in certified welding inspector jobs and are planning to make a career in this field, here is all the information you will need.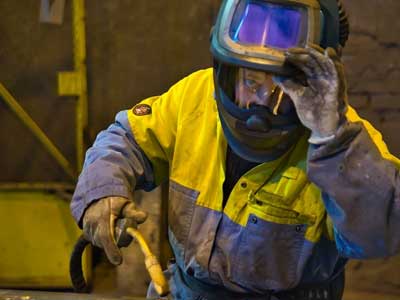 What Does a Welding Inspector Do?
Welding inspectors have the responsibility to inspect and assess the bonds and connections between metals. It is their job to determine the quality and strength of welding, making sure the welds meet the required levels of acceptance. Welding inspectors are also required to check the equipment that is being used and ensure that the welders meet all state safety regulations. Welding inspectors hold a lot of importance in the field of welding as they play a very critical role in determining the strength, quality, and safety of different structures like buildings and bridges.
Skills For a Welder Inspector
Since safety of structures, consumer products, machinery, building, and vehicles relies on welding inspectors, it is vital for them to have necessary qualifications and skills. Despite the specialized nature of the job, it is relatively easier to enter the welding industry. Anyone with a high school diploma can become a welder, provided they learn the techniques and process through advanced certifications. Some of the essential skills required for a welding inspector are:
Detail Oriented and Organized
Welding is all about precision and flawless execution to achieve the results. A welding inspector must have keen observation to find out the smallest of defects and flaws. They should be able to carefully inspect the welds and suggest alternative solutions if the results are not desirable.
Computer and Software Skills
Welding inspectors are required to have advance computer related skills as their responsibilities include releasing computer generated reports and spreadsheets. For specialized industries, welding inspectors need to remain updated with the latest software and technologies.
Mathematical Skills
The foremost skill that all welders must have is great knowledge and understanding of mathematical algorithms. From calculating dimensions to calibrating equipment, understanding numerical details in drawings to geometrical angles, all these things are integral parts of welding.
Effective Communication Skills
A welding inspector's job description means interacting with the team and giving them feedback. It is very important to have solid communication skills to able to discuss problems, give instructions on welding repairs, deliver information on welding brief, and be able to explain the process to achieve the goal.
Leadership Skills
Depending on the nature of the job, a welding inspector might have to work with a large team of welders. In this case, it is important to have sound leadership skills and be able to perform tasks in collaboration. A welding inspector should be able to understand problems of welders and provide necessary solutions. They must demonstrate team work and supervise a project from start till the end in an organized and effective manner.
Physical Skills
A physically demanding job, welding inspectors should be able to lift and carry heavy materials and equipment. It is important to be physically fit and maintain a healthy lifestyle.
What Are Some Related Alternative Careers?
Once become a welding inspector, the course is set to pursue other similar roles. With the relevant certification through the American Welding Society (AWS), a welding instructor can opt for other related careers as well. Some related alternative careers are:
Boilermakers
Master Jeweler
Industrial Machinery Mechanics
Machinery Maintenance Workers and Millwrights
Sheet Metal Worker
Ironworkers
Machinists and Tool and Die Makers
Oil Rig Welder
Plumbers, Pipefitters, and Steamfitters
Levels Of Welding Inspectors
There are three basic levels in the Certification Scheme for Welding Inspection Personnel (CSWIP) certification scheme. These include:
Visual Welding Inspection
Welding Inspection
Senior Welding Inspector
Qualified welding inspectors with CSWIP can perform various roles that include welding plant inspection, underwater inspection, cathodic protection, and welding instruction. There are many opportunities for certified welding instructors as they can work in manufacturing, oil & gas, construction, aerospace, ships and boats building, aviation, and transportation.
Welding Inspector Job Description
Following are the major duties of a welding inspector.
Carrying out visual inspections of welded products and heavy structures under construction
Find and identify defects in welded items such as pits, cracks, holes, etc
Take all measurements of welded products to make sure that all dimensions and specifications are being met
Carry out stress tests and all other needed assessments on welded items and structures of all types.
Requirements for Becoming a Welding Inspector
In order to become a welding inspector, you need to have a high school diploma. This is the basic requirement to enter the field. After that, you need to acquire specialized welding education and training.
There are a number of technical schools, community colleges and other training schools around the country that offer different welding-related qualifications. These include certificate programs and associate's degrees. Depending upon your level of education, you will also need some years of work experience to become a certified welding inspector.
Steps to Become a Welding Inspector
Post-secondary welding education
You can start working as a trainee welder straight out of high school and make the transition to welding inspector after gaining the necessary experience. Or you can go for specialized education first. There are a number of certificate and associate's degree programs to choose from if you decide to do so. The best ones will offer a good grounding in metallurgy, blueprint reading, arc welding, fabrication and other related areas.
Work experience
You will need to acquire the required experience in order to be eligible for a license or a certification. The amount of experience needed will depend on the level of your professional education.
If you have a high school diploma, then you will need at least 5 years of work experience. One the other hand, an associate's degree holder will need 3 years of experience. Similarly, if you have a bachelor's degree in Welding Technology or Welding Engineering, then work experience of 1 year will suffice. Try to gain experience of as many welding fields as possible. This will be very helpful in your work as a welding inspector.
Qualify the certification exam
In order to become a certified welding inspector, you need to pass the test administered by the American Welding Society (AWS). This assessment has the following three sections.
Welding Fundamentals
Practical Applications
Welding Code Application
The types of welding certifications available include the following.
Certified Welding Inspector (CWI)
Senior Certified Welding Inspector (SCWI)
Certified Welding Inspector Salary
As per the US Bureau of Labor Statistics, welders, cutters, solderers and brazers made an annual median wage of $41,380 (May, 2018). Also, Quality Control Inspectors had an annual median salary of $38,250 (May, 2018).
Welding Inspector Career Outlook and Job Growth
The US Bureau of Labor Statistics predicts a 6 percent increase in jobs for welders, cutters, solderers and brazers between 2016 and 2026. This is quite similar to other fields.
You May Also Like
Top 15 Welding Schools
How to Become a Welder Apprentice
10 Reasons Why You Should Become a Welder