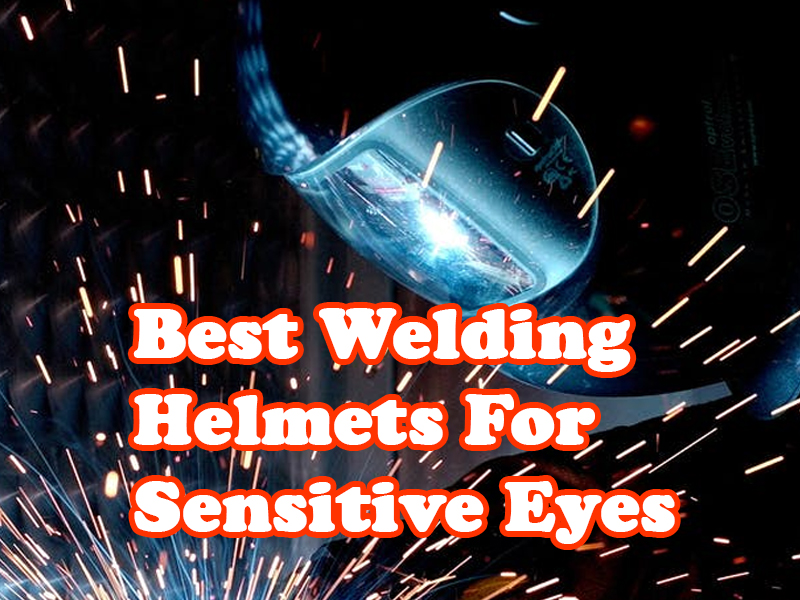 Welding is among the most dangerous jobs. A hazardous workplace activity, it involves the use of heavy metal equipment, electricity, hot tools, and exposure to toxic fumes and gases. It's important to be aware of the risks involved in welding work and understand the precautions that need to be taken to protect yourself. A welder's helmet, also known as the hood, is an essential safety gear that every person should have who works in a fabrication workshop. A personal protective equipment, these sophisticated helmets protect eyes and skin from severe sparks. They also shield eyes from ultraviolet and infrared rays that are emitted by the arc and can damage vision.
In all practicality, helmet is considered an extension of a welder. Choosing the right kind of helmet makes a big difference in comfort, overall welding ability, and provides better protection.
Top 5 Welding Helmets Offering Quality Features and Value
Below you can find different types of welding helmets, complete with details, specifications, and model type.
1-VIKING 3350 Black Welding Helmet K3034-4
The new and improved VIKING 3350 is a superior quality welding helmet series that is an ultimate blend of optics, comfort, and versatility. Lincoln Electric's 3350 series includes pivot-styled headgear that is designed for optimal fit and greater comfort.
Lincoln Electric K3034-4 VIKING 3350 Auto Darkening Welding Helmet with 4C Lens Technology is available in black color and is designed for maximum comfort.
About the Product
Equipped with 4C® lens technology, it increases the color range and hues, providing better visibility in both dark and light states. A clear view helps avoid imperfections and color saturation of the base material, arc, and puddle.
Offering superior 1/1/1/1 optical clarity, this rating showcases that there are no common irregularities like distortion and blurriness. It helps in maintaining shade consistency and lens uniformity at different angles.
Sizeable viewing area with 12.5 square inches auto darkening lens that provides better view for enhanced operator control and versatility.
Additional Features
Designed for greater comfort and optimal fit, K3034-4 VIKING 3350 Auto Darkening Welding Helmet uses X6 Headgear that reduces pressure, distributes weight, and optimizes balance.
It comes with a flexible cushioned back and a padded rotatable headband that allows comfort.
The helmet ensures outdoor performance as its innovative technology detects differences in sunlight and welding arc without switching modes.
An external embedded grind button allows a convenient shift between weld and grind mode. Located at the side of the helmet, it needs to be pressed for just 3 seconds and it will switch to grind mode. There's no hassle to take off safety gloves or helmet.
The helmet comes with an increased battery life that results in higher productivity.
Lincoln Electric K3034-4 VIKING 3350 Auto Darkening Welding Helmet has 3 years' warranty from the date of purchase, offering the best value for your money.
2-Antra AH7- 860-0000 Solar Power Auto Darkening Welding Helmet
Antra™ AH7-860-0000 Solar Power Auto Darkening Welding Helmet provides protection, comfort, and versatility. It is designed to completely cover the face and neck, allowing better protection against welding spatters and dangerous radiant.
About the Product
Antra AH7-860 Series provides welding helmets that come with 4-sensor auto darkening lens that are controlled by a smart chip. This allows quick response to an electric arc from MIG, TIG, MMA, or Plasma application.
The 3.78X3.50 inches lens offers large viewing area and better vision.
The helmet offers versatility with multiple applications like welding, grinding, and cutting.
The helmet comes with a knob to adjust the delay time and sensitivity of light.
Compatible with Cheater Lens, Antra AH7-860-0000 auto darkening welding helmet helps enhance view of detail work.
Additional Features
The adjustable headgear allows comfort along with safety. The ratchet gear comes with fastening springs that makes it easy to make adjustments.
The model provides complete face and neck protection through a well-designed shield. The unique design protects face and eyes from spatters, debris, and harmful UV/IR rays.
Delay control and sensitivity adjustments have the ability to keep the filter alive for 10 minutes in dark environment, before going to sleep.
Antra AH7-860-0000 is equipped with an adjustable shade range that can be set according to the type of job. This allows the selection of darkness level that you can experience during the welding arc.
The helmet has solar power cell design with replaceable batteries.
3-YESWELDER True Color Solar Powered Auto Darkening Welding Helmet
Offering true color view, YESWELDER's Solar Power Auto Darkening Welding Helmet comes with 1/1/1/2 Optical Clarity rating. The helmet protects from bright light, UV, and infrared light, shielding from molten sparks and debris, making the job easier to complete.
About the Product
Yeswelder LYG-M800H Welding Helmet has 3.94-inch x 3.66 inches lens that allows large viewing area and better vision. The True Color Technology helps in preserving 1-1-1-2 optical clarity rating.
4~5/9-9/13 wide shade range makes it perfect for using with MIG, TIG, MMA and Plasma arc welding or grinding. It also enhances full range vision and operator control.
The model comes with embedded side buttons to easily switch from weld to grind to cut mode. During grind mode, the lens doesn't respond to any arc to ensure enhanced safety.
The dynamic UV/IR filter works non-stop and independently to provide consistent performance with or without power.
For better and detailed viewing, compatible Cheater Lens is available that can easily be inserted into the welding helmet.
Additional Features
Yeswelder LYG-M800H Welding Helmet has a sturdy and solid design that offers great build quality.
The helmet comes with an inbuilt solar cell for power that makes sure the battery lasts longer.
The replaceable CR2450 battery allows increased time for uninterrupted welding work. The model has battery indictor for improved efficiency.
The adjustable headgear comes with soft padding and provides complete comfort. It can easily be adjusted to fit your head perfectly.
The internal design has a test button to try out auto darkening.
4-Hobart 770890 Auto-Darkening Welding Helmet
Among the most dependable welding helmets, Hobart 770890 is equipped with 4-arc sensors that help control auto darkening functionality. Its enhanced LCD technology protects eyes from sparks and flashing of the arc. The helmet has excellent shade variability for different light conditions.
About the Product
The high-performance helmet has an extra-large 9.3 square inches viewing area and a wide screen format that provides excellent visibility.
The quick 1/25,000-second reaction time helps in automatically darkening of the lens when you start welding.
The Analog controls makes it easier for the welder to adjust shade, sensitivity, and delay.
Hobart 770890 features a grinding mode and a convenient button option to switch between welding and grinding. During the grinding mode, a red light blinks inside the hood which is an additional safety feature.
The model is compatible with magnifying cheater lens.
Hobart 770890 has a nice matte finish and while it is lightweight, it's made from durable nylon polyamide.
Additional Features
The helmet has been designed with a bended lower edge that gives additional protection to the neck and ears. It helps deflect fumes and prevents flying sparks from entering inside the helmet.
The headgear has a soft headband that provides comfort and support. The tightening ratchet on the back allows flexibility and adjustment to easily fit on your head.
Hobart 770890 welding helmet comes with extra replacement covers.
5-YESWELDER Auto Darkening Welding Goggles R100A
Welding goggles provide additional safety from intense heat, ultraviolet and infrared light, as well as from flying debris. YESWELDER Auto Darkening Welding Goggles are made from high-quality PC materials to resist strong impact and glare.
About the Product
Yeswelder's welding goggles have a compact auto darkening lens that allow to weld in areas that have limited access to traditional welding helmets.
It allows wider panoramic view because of 4.82 x 1.37 inches lens and is equipped with dual sensors.
The close-fitting, soft eye covering provides complete darkness for precision welding.
The model comes with a face-shield that ensures additional coverage and protection from UV/IR rays, debris, and splatter.
It offers shades 5, 7, 9, 11, and 13 that work well with TIG, MIG, stick, and gas welding and cutting.
The goggles are extremely lightweight which eliminates neck strain.
Additional Features
Yeswelder's auto-darkening welding goggles are compatible with hard hats and eye protections.
It has an increased battery life that allows increased welding time and flexibility to work in places that limits access to welding helmets.
The welding goggles have an electronic control panel which makes handling easier.
Conclusion
Whether you're a professional or someone who likes DIY projects, it's important to have safety gear which includes welding helmets and goggles. When buying welding helmet take into account lens reaction time, arc sensors, design and comfort, and flexibility that comes with controls and buttons. Give a lot of consideration to your choice, selecting a helmet that suits your needs. It should meet ANSI protection standards (ANSI Z87+) and offer durability that ensures lasting results. Take your pick from the best welding helmets that fit your budget and requirements.
You May Also Like
Best 15 Welding Schools in USA
How to Get into Pipeline Welding
10 Reasons Why You Should Consider a Career in Welding
What are Some Pros and Cons of Being a Professional Welder
Best Welding Helmets Under $200
5 Pros and Cons of a Career in the Welding Industry