Pipeline workers install, inspect, maintain, and weld pipes. They also keep welding equipment with them so that they are ready whenever they are called upon to repair or install pipes.
Featured Programs and Schools
Should I Become a Pipeline Welder in the US?
Are you interested in becoming a pipeline welder in the US? If so, then read the following article for more details:
| | |
| --- | --- |
| Education Required | High School Diploma or a GED |
| Major Requirement | Not Required |
| License/Certification | Required |
| Experience/Training | On-the-job training is needed |
| Key Skills | Physical stamina, Hand eye coordination, Hand stability, Should be able to interpret schematics etc. |
| Annual Mean Salary – US (2020) | $46,690 |
| Job Outlook – US (2020-2030) | 8% |
Source: US Bureau of Labor Statistics
Steps to Become a Pipeline Welder
To work as a pipeline welder in the US, you must complete the steps mentioned below:
Get High School Education
To work as a pipeline welder in the US, the minimum educational requirement is a high school diploma or a GED.
Postsecondary Education
Try to get into a welding school to get welding credentials. While not mandatory, this is an important step that will help you in landing a job.
Get Certification
Most employers these days prefer pipeline welders who have professional certification. The American Welding Society offers certificates for welders that are recognized all over the country. Go through their certifications in detail and get the one you think is the right one for you.
Get Training
Once you have met all the above-mentioned requirements, you will have to work as an apprentice for a little while to learn how pipeline welding works.
Apply for a Job
Once the training is complete, you can start looking for jobs.
What is Pipeline Welding?
Pipe Welding or Pipe Fabrication is a specialized technique for joining two pipes together. A cost-effective method, pipe welding involves the use of intense heat to construct, maintain, repair and remove pipes. There are different methods used in pipe welding. These include:
Arc Welding
MIG Welding
TIG Weldings
Pipe welding is required in all the areas that has pipes, like water sewage, natural gas, and oil industry. There are three categories of piping:
Low-Pressure Or Light Structural Piping – This is mainly used for noncombustible or non-hazardous materials like water.
Medium-Pressure Piping – Used for flammable or low-pressure steam and corrosive materials, it is applicable for ship plumbing, water disposal, and structural items.
High-Pressure Piping Systems – Used for radioactive materials and high-pressure steam, this works well for refinery reactor lines and boilers.
A Pipeline Welders Requirements and Responsibilities
A specialized field, a pipe welder is required to read and comprehend blueprints and schematics, determining the right welding methods and tools required. It is the job of a pipe welder to be able to assemble, install, and prepare pipe components according to specifications. Pipe welder is responsible for maintaining supplies, tools, and equipment, and making sure that all safety protocols are met. Among their main responsibilities is to prepare working materials and applying chemical solutions to piping.

Training in Pipeline Welding
Once you have decided on your path to become a pipeline welder, look for the best training schools in your area. There are different types of welding certifications that prepare aspirants for the tough job. There are specific welding processes that include SMAW, GTAW, and FCAW. Most of the pipe welding training programs take from 30 to 40 weeks to complete and cover areas like GTAW Pipe welding process and pipe layouts.
What Skills Does a Pipeline Welder Need?
Pipeline welders are highly skilled workers, trained to use heavy machinery to repair, maintain, and construct shapes. One of the most complex welding techniques, pipeline welding requires specialized training and technical skills. These include
Problem Solving Skills
Machine-Operation Skills
Physical Stamina
Mathematical Skills
Communication Skills
Adaptability and working in different situations
Knowledge of blueprints, piping components, and welding symbols.
Pipeline Welder Job Outlook
According to the 2021 U.S. Bureau of Labor Statistics (BLS) reports, the mean annual wage for welders that include pipeline welders, cutters, solderers, and brazers was $48,290. BLS has projected that the job opportunities for welders are expected to grow by 8% from 2020-2030 at the national level.
Below are the states with the highest employment level for welders, cutters, solderers, and brazers:
| | |
| --- | --- |
| State | Employment |
| Texas | 46,580 |
| California | 30,080 |
| Ohio | 17,710 |
| Pennsylvania | 17,320 |
| Wisconsin | 16,570 |
Source: US Bureau of Labor Statistics (2021)
Duration to Become a Pipeline Welder
Depending on your education, certifications, and on-the-job training, it can take you anywhere between 2 to 4 years to start working as a pipeline welder after high school education.
Salary of Pipeline Welders
According to the latest figures provided by the US Bureau of Labor Statistics, welders, cutters, solderers, and brazers made a mean annual salary of $46,690 in the US in 2020. Below are the top paying US states for this occupation in 2020.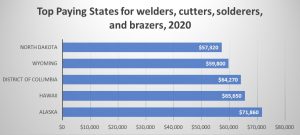 FAQs
Is pipelining a good career?
Pipeline welders are always in demand and provide a stable career. Industries like pipeline transportation of natural gas and crude oil are booming and offer a lot of lucrative opportunities.
How many hours do pipeline welders work?
Depending on the nature of the job, on average pipeline welders work 40 hours per week. They can also be asked by the employers to work overtime if need arises.
Do pipeliners make good money?
According to the US Bureau of Labor Statistics (BLS) 2021 statistics, Pipeline Transportation of Crude Oil and Pipeline Transportation of Natural Gas are among the top five paying industries for welders, cutters, solderers, and brazers. The annual mean wage for Pipeline Transportation of Crude Oil is $ 87,900, whereas, the annual mean wage for Pipeline Transportation of Natural Gas is $ 80,560.
Is being a pipeline welder worth it?
Pipeline welding is among the top paying industries according to the 2021 US Bureau of Labor Statistics (BLS) statistics. Pipeline welders get good career opportunities, stability, and with suitable training and certifications, consistent flow of work.
FAQs
What do you need to be a coded welder?
To become a coded welder, you need to have the right skills to perform a specific welding code. Aspiring coded welders must enroll in an American Welding Society (AWS) accredited training program and obtain specialized certification.
What is the difference between a certified welder and a coded welder?
While both terms can be used interchangeably but there is a lot of difference between a certified welder and a coded welder. A certified welder can be anyone with welding related certifications depending on their area of interest. In comparison, a coded welder has to pass Welding Approval Test whilst demonstrating a welding process and using a specific welding configuration. Coded welders have to be retested every two years.
You May Also Like
How to Become a Coded Welder
How to Become a Welder Inspector
Welding Training