Pipeline workers install, inspect, maintain, and weld pipes. They also keep welding equipment with them so that they are ready whenever they are called upon to repair or install pipes.
Featured Programs and Schools
Should I Become a Pipeline Welder in the US?
Are you interested in becoming a pipeline welder in the US? If so, then read the following article for more details:
| | |
| --- | --- |
| Education Required | High School Diploma or a GED |
| Major Requirement | Not Required |
| License/Certification | Required |
| Experience/Training | On-the-job training is needed |
| Key Skills | Physical stamina, Hand eye coordination, Hand stability, Should be able to interpret schematics etc. |
| Annual Mean Salary – US (2020) | $46,690 |
| Job Outlook – US (2020-2030) | 8% |
Source: US Bureau of Labor Statistics
Steps to Become a Pipeline Welder
To work as a pipeline welder in the US, you must complete the steps mentioned below:
Get High School Education
To work as a pipeline welder in the US, the minimum educational requirement is a high school diploma or a GED.
Postsecondary Education
Try to get into a welding school to get welding credentials. While not mandatory, this is an important step that will help you in landing a job.
Get Certification
Most employers these days prefer pipeline welders who have professional certification. The American Welding Society offers certificates for welders that are recognized all over the country. Go through their certifications in detail and get the one you think is the right one for you.
Get Training
Once you have met all the above-mentioned requirements, you will have to work as an apprentice for a little while to learn how pipeline welding works.
Apply for a Job
Once the training is complete, you can start looking for jobs.
Duration to Become a Pipeline Welder
Depending on your education, certifications, and on-the-job training, it can take you anywhere between 2 to 4 years to start working as a pipeline welder after high school education.
Salary of Pipeline Welders
According to the latest figures provided by the US Bureau of Labor Statistics, welders, cutters, solderers, and brazers made a mean annual salary of $46,690 in the US in 2020. Below are the top paying US states for this occupation in 2020.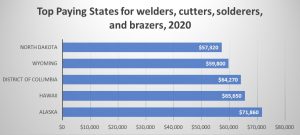 You May Also Like
How to Become a Coded Welder
How to Become a Welder Inspector
Welding Training